ODDBOD® - CHARACTER DOLLS
SOFT SCULPTURE PLUSH DOLLS
ODDBOD® - Dreydl Kids ODDBODS©, Kindl and Mindl Candle ODDBODS©, Dreydl Stuffer ODDBODS©,
Alef-Bet ODDBODS©*, Alphabet ODDBODS©*- Number ODDBODS©*, Shape ODDBODS©*, United States ODDBODS©*.
ODDBODS ® come in odd shapes to fill you with surprises. ODDBODS® characters appear in Books.
DREYDL KIDS ODDBOD© - SOFT PLUSH DOLLS
Dreydl Kids ODDBODS®

Dreydl Kids are soft sculpture plush fabric dolls, and are approximately 15" tall. Dolls are available either individually, or in a set of four (4). When ordering, please specify individual Doll Name (above) or the group of four Price $75.00 Each

Dreydl Kids are character dolls of the Alef-Bet ODDBODS©. These charming dolls, each with a body made from letters of the Dreydl as illustrated in the book, "The Lost Side of the Dreydl" by Barbara Birenbaum.
KINDL and MINDL CANDLE ODDBODS® - SOFT PLUSH DOLLS
KINDL

MINDL

Kindl, an ODDBOD candle shape, is approximately 26" tall. A soft plush doll that weaves through adventures stories by Barbara Birenbaum.

Price $100.00 each

Mindl a candle ODDBOD is approximately 26" tall. She is a soft plush doll that share adventures with Kindl in books by Barbara Birenbaum.

Price $100.00 each
ODDBOD® DREYDL STUFFERS®©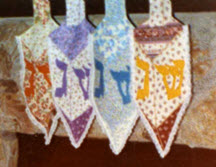 The Original Dreydl Stuffers®
©
Hanukkah ornaments ideal for hanging on the fireplace mantel to hold holiday gifts. Sold in Assorted fabric colors and patterns.
Price: $35.00 each
THE LOST SIDE OF THE DREYDL

Written and Illustrated By Barbara Birenbaum

ISBN 978093534168 SC $5.95

ISBN 978093534175 HC $14.95

The story finds Kindl and Mindl part of a holiday mystery adventure. The missing letter of the Dreydl is on the run. It must decide whether to return before Hanukkah for spinning fun - putting in, taking all or leaving some.

Book contain "The Spinning Dreydl Song"©

Instructions how to play the Hanukkah DREYDL GAME

Dreydl Oddbods® and Alef-Bet Oddbods® are character trademarks of Barbara Birenbaum that also appear in the illustrations of this book.
* Dolls Not Shown on this site at this time